"I'm in a post-graduate delirium."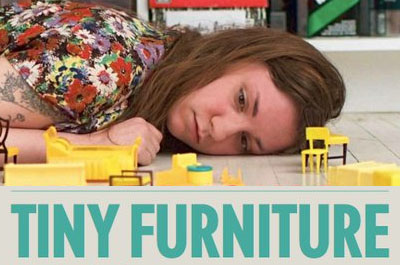 Nach ihrem Collegeabschluss kehrt Aura (Lena Dunham) zu ihrer Mutter (Laurie Simmons) und ihrer Schwester (Grace Dunham) nach New York zurück. Mit nutzlosem Abschluss der Filmtheorie und Liebeskummer im Gepäck befindet sie sich wieder in ihrem alten Leben. Statt sich den vielen Möglichkeiten der wirklichen Welt zu stellen, um herauszufinden, wer sie sein könnte, ist Aura auf der Suche nach jemanden, der ihr sagt, wer sie ist.
In fast schon Dunhamscher Manier werden in "Tiny Furniture" skurrile Charaktere, bizarre Situationen und spitze Dialoge gestrickt. Dunham lässt ihre Hauptfigur erst straucheln, dann fallen, wieder aufstehen und dann wieder straucheln, um zum abschließenden Sprung durch den brennenden Reifen anzusetzen – so gestaltet sich Auras Suche nach ihrem Platz im Leben als Irrfahrt. Denn sind wir mal ehrlich, was nützt uns der beste Abschluss, wenn wir nicht wissen, was wir vom Leben wollen?
AURA WOULD LIKE YOU TO KNOW THAT SHE'S HAVING A VERY, VERY HARD TIME.
Der Soundtrack zum Film kann hier runtergeladen werden!